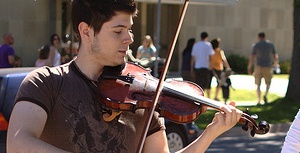 What to do in Fredericton this weekend
Kayne Wong, Experience Congress 2011
It has been a wild week for the city of Fredericton but Congress is not over yet! On Saturday, there are still plenty of things for everyone to do. There are still nine presentations to attend, the FSAC Annual General Meeting and many things to do all around Fredericton and the greater surrounding area. So are you here for the weekend? Let us help you find something fun to do!
At Congress:
The CSA, CIRA, FSAC, SSS and CSA all will continue to meet and present up until 5PM. Just check the Delegates Guide or your Association Programs for the presentation times and locations.
Downtown Nightlife:
On Saturday Boom! Nightclub features DJ Hindsight on. Doors open at 8. On Sunday they have their Sunday Mixer from 5PM until 8PM.
Scientists of Sound play that the Capital Complex on Saturday June 4th. Tickets are available in advance at Reeds and Backstreet Records for 12$ a head.
At the Beaverbrook:
The Beaverbrook Art Gallery downtown has several different events going on over the week and weekend including but not limited to "Hello Dahli!", the return of Santiago El Grande by Salvador Dali and "Beyond Likeness" which is a collection of works by 23 Canadian artists. More events, if you are interested in the visual arts check out their website for more details.
http://www.beaverbrookartgallery.org/.
At the Playhouse:
Dance Fredericton will be putting on its end of the year show at the Playhouse on Saturday, "Sleeping Beauty and Other Stores". Over 200 dancers will be performing in this showcase, drawn from all ages and level of skill. There will be two showings, one at 2:30 and one at 7:30. Tickets are 18$ at the door.
In the Downtown:
The Fredericton Baroque Music Festival opens its doors on Friday, but it is going to go on all weekend long. Check out the Christ Church Cathedral each night at 7:30 for a different concert! Tickets are by donation at the door with a suggested donation of 15$
Finally, there is no better way to start a Saturday morning in Fredericton then with the Boyce Farmers Market. Enjoy the outdoor eating, the indoor crafts and all the fresh and local produce, meats, cheese and treats you can carry back with you. If the weather is good, maybe you will get to see some of the excellent street performances!
Photo courtesy of nagzi on Flickr