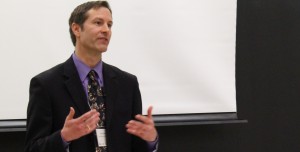 Contribution From Communities Key in Reducing Poverty
Matthew Sheriko, Congress 2011 Team
New Brunswick is on track with its Poverty Reduction Plan says Deputy Minister of Social Development, James Hughes.
He spoke before the Association for Nonprofit and Social Economy Research.  The audience comprised mostly of people from outside New Brunswick.
He explained the development process and the plan itself saying that, "Fighting poverty is what we do in our department, at its very core."
"New Brunswick started out by saying, 'we cannot do it alone'.  Government is not able, nor has it ever been able, to reduce poverty by itself.  We have to do it together with the other sectors.  In particular with the community sector,'" said Hughes.  "The first principle of the New Brunswick Poverty Reduction Process is that 'we are all in this together'.'"
New Brunswick's initiative is one of six underway among the 10 provinces.  Hughes says each province is in tune with what methods are used in the others.
Hughes highlighted the shared involvement from individual communities throughout the province as well as the provincial government in the development of the plan.
"Right there in the governance section of the plan, there's a commitment that, at the local level, the poverty reduction plan will take place itself," he said.  "Community put up its hand and said 'we want poverty reduction in this province to not be managed and led from Fredericton.  We want it from where we are, because we know our neighbours, we know the people using the food bank.  We can help.  We want to be part of this'."
He emphasized the importance of locally based initiatives to fight poverty rather than simple consultation with community leaders.
"We can't just involve community on an as needed basis, or as wanted basis," said Hughes in reference to the consensus in the final stage of development.  "We have to organize ourselves to make sure that it incurs an equally and equitably right across the province in terms of a community role.  And the law foresees that very thing."
The plan, brought into law in April of 2010 by the previous government, originally set the goal of reducing poverty by 25 per cent over five years.
He explained how each of the 12 designated regions of the province have individual localized needs that is reflected in the plan.  "A provincial framework with a local action."
"Nearly 14% of New Brunswickers live in poverty.  100,000 New Brunswickers live below the low-income cut off."
Photo: Matthew Sheriko