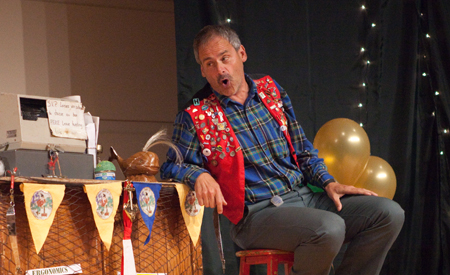 Bilingual Theatre: A Natural Evolution
Jacqueline LeBlanc Cormier, Experience Congress 2011
It was only fitting that New Brunswick's own "blue collar philosopher" would make an appearance at the Congress of the Humanities and Social Sciences in Fredericton. But Lucien wasn't there to talk Marxism.
Lucien is the beloved character created by Marshall Button, New Brunswick playwright, actor and director. Button (and by association, Lucien) made an appearance at congress to talk about bilingual theatre in Canada's only bilingual province.
Here's what Marshall Button had to say on the creation of Lucien and the state of bilingual theatre in New Brunswick: Listen here.
***
Marshall Button is best known for his portrayal of Lucien, a Dalhousie mill worker who has appeared in more than 2,000 performances across Canada, the United States, and overseas in Southern Asia and Afghanistan.
Button is artist in residence at the Capitol Theatre. He has been artistic director for the Capitol Theatre, the Upper Canada Playhouse, and the Comedy Asylum. He is the founder of Moncton's HubCap Comedy Festival and the Capitol School of Performing Arts and has worked as an actor and director for theatre companies across Canada including Theatre New Brunswick, Theatre Aquarius, Neptune, Prairie Theatre Exchange, Théâtre Populaire D'Acadie and the National Arts Centre.
Photo courtesy of Keith Minchin, Faces of Fredericton.