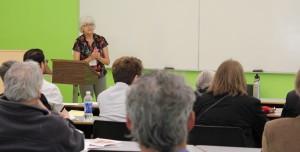 War as a Disease
Matthew Sheriko, Experience Congress 2011
If there's only one constant in human history, you could argue it's the occurrence of war.  Dale Dewar says it's time for that trend to end.
A rural family doctor from Saskatchewan, she presented her thesis to the Canadian Peace Research Association on a unique topic.
Dewar used a medical model to explain  the phenomenon of war and how that approach could be used to abolish it. She identified war and global conflict as mankind's disease or addiction, saying that war and disease can similarly be eradicated.
"When we name a behaviour as an illness it becomes less likely that engaging in it will be considered appropriate," said Dewar.  "Either we cure the disease, or ultimately, the disease will kill us."
Dewar passionately advocates for demilitarization and the rechanelling of funds spent on the military to other programmes.
Drawing comparisons to spousal abuse, bullying, and slavery, she said, "In my mind, prevention of war is the only road into the future.  I believe that when enough people say violence is unacceptable as a method of discourse, it will become unacceptable."
Programs that study these types of phenomena, such as peace studies and conflict studies, are being developed in universities across Canada.  "If these studies aren't in your university, then ask, 'why not?  We changed the face of women's studies this way 25 years ago."
"We need to wean ourselves off of violence.  This means off our own propensity to watch violent movies, violent TV shows, and games.  Adrenaline junkies, find other sources for our adrenaline.  And needless to say, wean your kids off it as well."
She says persistence is what will make it happen, relating  it to rehabilitation from an injury — the key to getting better and the key to ending war.
Citing a study that said conflicts are more likely to be resolved at the negotiating table when the gender ratio is closer to even, Dewar suggests that having more women in positions of power might help diffuse the tendency for violent conflict.
Photo by Matthew Sheriko.