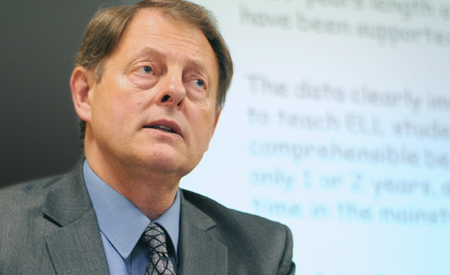 Launch of Accord on Research in Education
Sarah Bernstein, Experience Congress 2011
The Association of Canadian Deans of Education (ACDE) and the Social Sciences and Humanities Research Council of Canada (SSHRC) launched the Accord on Research in Education on Tuesday, May 31 with a keynote address by Canada Research Chair James Cummins.
The Accord emerges from a shared commitment by ACDE, a network of deans, directors, and chairs of education faculties nationwide, to contribute to and expand on discourses on the importance of public education's accountability within and outside of the Academy.
Brent Herbert-Copley, Social Sciences and Humanities Research Center (SSHRC)Vice-President of Grants and Fellowships, addressed SSHRC's shared perspective with the Accord: "Educational research is also a central element of what SSHRC does," he said. "We support hundreds of MA, PhD, and Post-Doctoral researchers each year."
In reshaping what he called SSHRC's "new ergonomy of programmes," the council struggled with how best to articulate these new programmes. "The Accord expresses it well. The document is an example of something that speaks to a broader community – that has a focus on diversity, multiple forms of knowing."
James Cummins spoke on the goal of the document and the three main areas of difficulty. The first difficulty is around ensuring that a constructively challenging, rather than adversarial, dialogue takes place across paradigms, academic disciplines, and educational constituencies. Second, Cummins stressed the importance of creating dialogic structures to challenge implicit assumptions that often are embedded in research programmes. Last, Cummins articulated the importance of examining and recognizing research regarding power relations and its impact on achievement. "There has been clear evidence," he said, "regarding the impact of societal power relations, in schools and in society in general, on student achievement." This research, he pointed out, has often been overlooked.
In his concluding remarks, ACDE President Ted Riecken said, "The idea is to improve education in and out of schools and across the lifespan. To confront [and utilize] 'difficult knowledge' Educational institutions can sometimes silence and marginalize some people and raise others. We need to be mindful of that."