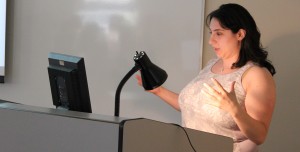 Opposing Viewpoints on Canadian Anti-Terrorism Law
Matthew Sheriko, Experience Congress 2011
Many feared Canada would begin fighting terrorism at the expense of human rights when anti-terrorism legislation was introduced.
That was the subject of Vanessa Iafolla's presentation to the Canadian Sociological Association. Mrs. Iafolla is a PhD candidate at the University of Toronto's Centre of Criminology and Sociolegal Studies.
"The political agenda to augment national security was bolstered by media reports regarding potential threats posed from terrorist cells within Canada, as well as reports indicating the willingness of the Canadian public to preserve national security even at the cost of its civil liberties," Iafolla said.
She highlighted the reaction to the legislation of different ethnic and religious groups within Canada.  She spoke of their fears that the Anti-Terrorism Act would target and limit their civil liberties.
She shows that groups of Muslim-Canadians felt the law went too far to infringe on rights, while a group of Jewish-Canadians felt it didn't go far enough to protect citizens from attack.
She focused on this contrast throughout her presentation stating that both groups sought ways to protect all Canadians from terrorism but had opposing views of how to achieve it.
She argued that civil liberties and freedoms are in the fabric of Canadian identity.
The representatives she studied emphasized their status as Muslim-Canadians and values they hold for their country where they don't want to singled out and lumped in with extremists.
"The speed with which Bill C-36 [The Anti-Terrorism Act] became law was not merely due to pressure from the US government, as much of the resulting legislation was enacted in response to concern from Canadian society," she said.
Photo: Matthew Sheriko