RYME Group: Music to Youth's Education System's Ears
Four members of the Research for Youth, Music, and Education (RYME) group gathered at UNB's Marshall D'Avary Hall on Tuesday, May 31st to present a new, mind-broadening study on child education and its future outlook towards art and the media.
Susan O'Neil, Project Director of RYME, opened the lecture by explaining the general importance of music and human's natural born connection to this form of art. "While in the womb, you know that you are involved in that culture, you know that you can hear music in the womb," says O'Neil. "We know that infants show memory for music after they're born. There's so much research being done to show we have a lot going on musically."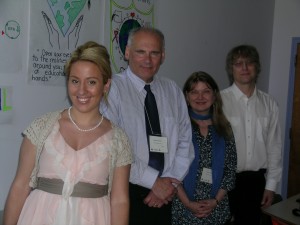 The group of researchers has studied children's reactions and cognitive abilities towards music through analytic processes and by interviewing Vancouver and Ontario Middle and Secondary School students.
They have narrowed their research by gaining philosophical insight from experts. Since then, they have discovered a need for more engaging, collaborative and positive music-program classrooms, and they have created a number of alternative programs for educators to learn from and incorporate into their lesson plans.
These programs are based on an existential mindset, encouraging motions students' freedom of choice. While most schools' music classes are restricted to text-oriented programmes, RYME believes that this type of practice suffocates the true breath of music. O'Neil says
Our 'Musical Futures' program has been working well. We went to schools where students worked in a typical band program with notebooks and told them to split into friendship groups, choose their own song as long as it was appropriate for the school, and told them to play it by ear. This program originally developed from the UK. The key feature [of these programs] is to use empowerment and voice while building resilience.
Another program used to nurse this educational divot is called the 'Paradigmatic Shift' – a problem-behavior preventative, that looks at youth in a positive light.  For instance, instead of looking at spray pain as graffiti, they would call it street art.
"This highlights the importance of shifting one's thinking of 'being' to 'becoming,'" O'Neil says. "The idea of 'being' is static, while 'becoming' holds potential, creativity and unfolding possibilities."
Deanna Peluso, RYME's Project Coordinator, takes this idea of 'becoming' and links it with 'media convergence' and children's remarkable understanding and involvement in media's many realms of interconnections. Peluso takes the example of YouTube and explains how its videos are, "Mastery of skill passing onto others." During the presentation, Peluso played recordings of pre-teens performing difficult pieces of music, with thousands of views on YouTube, displaying the possibility of successful youth-teaching-youth method.
Not only are youth teaching youth, but if integrated into the school system, this student empowerment will help teachers learn more about youth's unique artistic abilities and the multi-coordination that comes with technology advancements. "Teachers facilitate the role of exploring these opportunities, learn from kids and offer youth empowerment. Everyone has knowledge of what the next person doesn't."
Yaroslav Senyshyn, another director for RYME, acted as a safeguard for all the fluid and existential ideas in the research group, setting cautions for the possibility of vainity entering the education system through this method.
However, as he says, it is the teacher's responsibility to make sure this is prevented as well as enabling them to think out of the box. "Teachers have to get in the habit of asking students what their artistic yearnings are so to communicate together properly," he says, "Even though students are condemned to be there, they have freedoms that teachers have to portray as well. If not, there's bad faith."
The U.S. has already begun incorporating arts in different subjects, recognizing the great potential it holds. However, as Susan says, this type of facilitating takes baby steps, as each school district is so unique.
"It's not a recipe," Susan says, "It [the project] was messy and it was a leap of faith. But we have to advocate teachers to take a leap of faith."